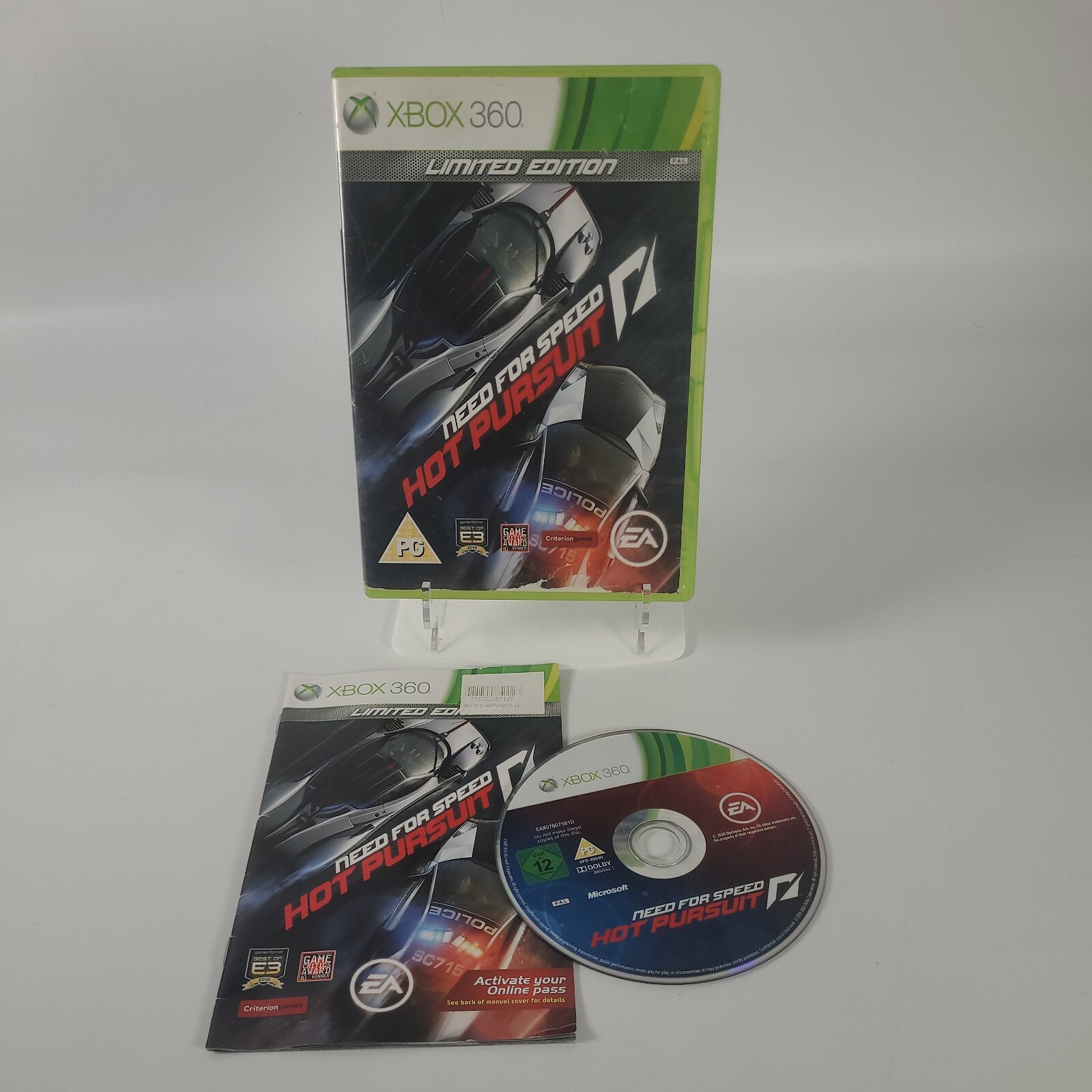 Artikel, der gebraucht wurde, sich aber noch in einem sehr guten Zustand befindet. Die Hülle bzw. die Artikelverpackung ist unbeschädigt und weist keine Beschädigungen, Kratzer, Risse oder Löcher auf. Das Albumcover und der Einleger sind vorhanden. Die VHS- oder DVD-Hülle ist vorhanden. Die Anweisungen zum Videospiel und die Hülle sind vorhanden. Die Zähne des Diskhalters sind unbeschädigt. Der Artikel zeigt äußerlich nur geringfügige Gebrauchsspuren. Die CD/DVD springt nicht. Das VHS-Band zeigt keine verschwommenen/grießigen Bilder. Genauere Einzelheiten sowie eine Beschreibung eventueller Mängel entnehmen Sie bitte dem Angebot des Verkäufers.
Alle Zustandsdefinitionen aufrufenwird in neuem Fenster oder Tab geöffnet
"Disc, Case and Manual in very good condition"
Need for Speed: Hot Pursuit
Need for Speed Hot Pursuit Limited Edition Xbox 360 Racing Videospiel Handbuch PAL
Whether you choose to be a cop or a racer, the Limited Edition lets you get ahead with upgraded cars the first time you hit the streets: hunt down racers in the Porsche Cayman S and Dodge Challenger SRT8 or leave cops in the dust in the Audi TT RS Coupe and Chevrolet Camaro SS.Plus, get immediate access to advanced cop weaponry and upgraded racer equipment that will let you get an edge on your friends and a head start on your quest to become the top cop or most wanted racer. Need for Speed Hot Pursuit is developed by Criterion Games, the developers behind the critically-acclaimed Burnout racing series. These renowned innovators are redefining action racing by delivering an experience that connects players through intense competition whether playing online together or taking on friends' challenges.At the heart of Need for Speed Hot Pursuit is a suite of connected features called Need for Speed Autolog that enables players to connect, compare and compete with their friends effortlessly. Exotic cars on the open road, the rush of the escape, the thrill of the takedown – this is Need for Speed Hot Pursuit. Career – For the first time in Need for Speed history, players will experience the gripping and heart-racing action of both cops and racers. Hot Pursuit seamlessly links a tremendously deep and fully-defined single player career with a groundbreaking multiplayer experience across all race modes. In the end, whether playing online with friends, taking on friends challenges or the single player career, players will earn bounty that levels them up and unlocks new cars, weapons and equipment. Need For Speed Autolog – In Need for Speed Hot Pursuit, your friends drive your gameplay experience. Need for Speed Autolog is a revolutionary system that connects friends directly to each other's games, enabling them to compare and share all their experiences, pictures and challenges. Need for Speed Autolog instinctively delivers challenges based on what your friends have been doing, creating a hugely dynamic, socially competitive experience. Weapons and Equipment – Enhance the intensity of the pursuit using multiple weapons as the heat level increases during a pursuit. Whether taking down suspects with a variety of cop weapons or using evasion equipment as a racer to outsmart the cops, players will always have a method for gaining an edge over their opponent. Cars – In Hot Pursuit, the cars go from hot to hotter. Experience the thrill of driving the world's most desirable high performance cars at incredible speeds. Feel the power of busting suspects in supercharged cop interceptors like the Lamborghini Reventon or outsmarting the law as a racer in high performance supercars like the Pagani Zonda Cinque. Seacrest County – Explore a world as diverse as the California coastline with desert, forest, seaside and mountainous regions. The open world of Seacrest County is designed to create the most intense pursuit experiences ever found in a racing game.
Need for Speed: Hot Pursuit
Additional Product Features


Preis : 5.33

endet am : N/A

bei eBay kaufen